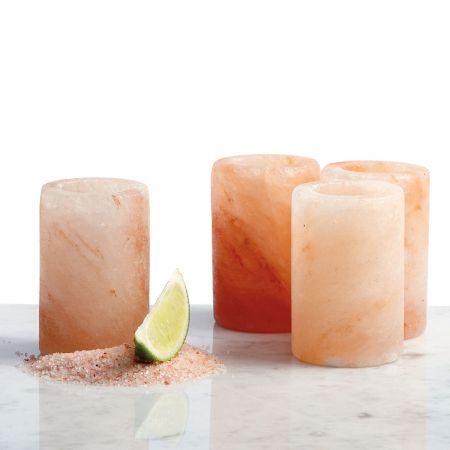 Himalayan Salt Shot Glasses by Bitterman Salt Co.
Perfect for serving mini margaritas, this hand-carved set of 2-oz. shot glasses makes a great gift. Hand carved from a single piece of pink Himalayan salt, these versatile glasses chill and salt every sip. Just chill or warm the cup, then fill with liquid. Salt cups have amazing thermal properties that let them stay hot or cold far longer than glass. Freezing, refrigerating, or heating them before serving opens new doors for drink design.

The trick to entertaining well with Himalayan salt glasses is to mix drinks designed for quick quaffing. Liquid dissolves salt quickly. If you let your shot sit for long, it will soon become unpalatable. But done right, the salt transforms drinks that benefit from a little salt. Set of 4.